Green economy will help to eradicate poverty
In October, at the invitation of HSE ISSEK Laboratory for Science and Technology Studies, Dr. Holger Schlör, leading researcher at Jülich Research Centre's (Forschungszentrum Jülich) Institute of Energy and Climate Research (Germany) spoke to HSE students and staff. According to him, Germany (which the OECD calls "green growth laboratory") is planning to completely switch to green energy by 2050, generating 80% of energy from renewable sources.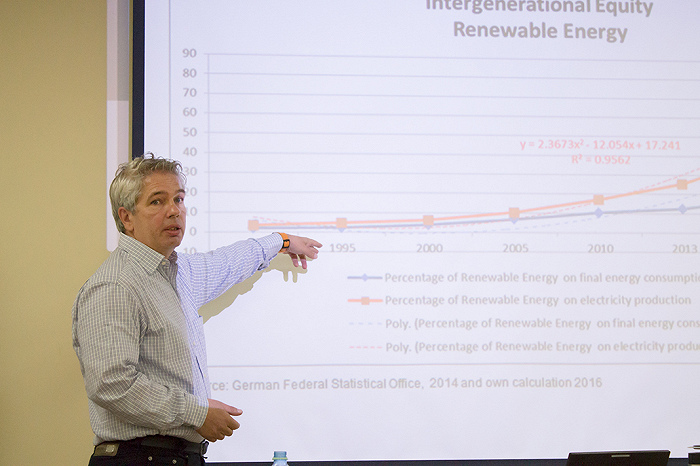 Dr Holger Schlör: Green economy is not a destination. It's a road towards sustainable development
These plans are based on the German Sustainable Development Strategy, adopted in 2002 and coordinated with the UN Sustainable Development Goals. The strategy includes 21 areas and 36 indicators to monitor its implementation, grouped into four sections: Intergenerational Equity, Quality of Life, Social Cohesion, and International Responsibility. Jülich researchers commissioned by the German government to monitor implementation of the strategy suggested another group of indicators – Water Resources.
The Green Economy Innovation Index based on these indicators allows to compare target figures set for the indicators included in the strategy (until 2020 for all areas except energy, and until 2050 for energy) with their actual values.
The Sustainable Development Strategy promotes green innovation, reducing hothouse gases emissions, job creation, and positioning Germany as a global green technologies exporter.
Directive regulatory tools
The government applies a range of directive regulatory tools to implement the strategy, including "carbon tax" on hothouse gases emissions widely discussed by researchers and decision-makers.
The Federal Ministry for Economic Affairs and Energy allocated 3.5 billion euros to support green energy-related R&D. Priority R&D areas include various energy storage technologies to balance "unstable" renewable energy sources (sun and wind), and create backup capacities.
Other government regulation tools are also applied. E.g. only cars with zero carbon dioxide emissions are expected to be sold in the country after 2030 (mostly electric cars, and hydrogen-powered ones).
Economic incentives to win public support
By steadily increasing electricity prices, the government promotes radical energy saving by households and companies alike. Introduction of special long-term tariffs for energy generated from renewable sources created incentives for individuals and small settlements to produce energy using their own solar and wind installations, and sell the excess supply to central grid.
About 90% of all solar panels in the country are positioned on roofs of buildings – private houses, villages, farms, factories, and administrative buildings. More than 1,5 million solar panels are installed on the roofs of private houses.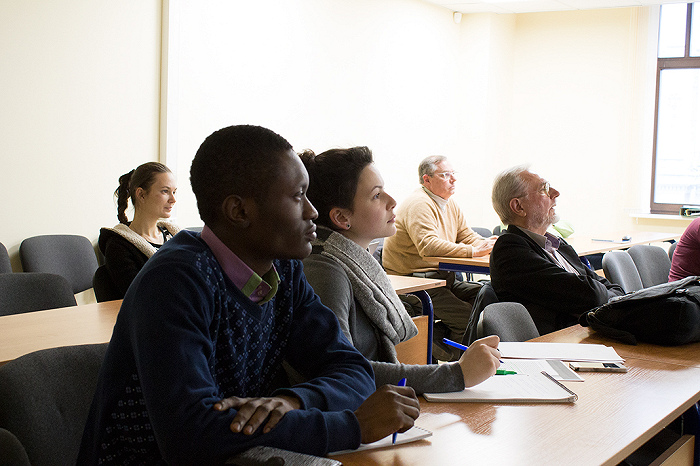 To pool resources to buy (and more productively use) solar panels or wind turbines, people establish energy cooperatives which allow to share both initial costs, and subsequent revenues.
Also, Germans actively support green economy by participating in car and bicycle sharing, and by setting up urban plant growing areas (some of them, again, on building roofs). Thus social cohesion helps to preserve natural resources, and vice versa, noted Dr Schlör.
Background information
Jülich Research Centre (Forschungszentrum Jülich) is the largest think tank in Europe, employing about 6,000 people. Around 2,000 of them work at the Institute of Energy and Climate Research.
Dr Holger Schlör specialises in economic aspects of sustainable development and systems analysis of energy systems. Graduated from Heidelberg University, PhD (Economics) (Free University of Berlin). Author of numerous publication on energy and economics in highly cited academic journals; member of editorial boards of several academic journals; chair of various sections at energy-related scientific conferences.
By Liliana Proskuryakova, with participation of Karina Zagitova
Photographs by Daria Olerinskaya, Andrey Kucherov