Handbook of Innovation Indicators and Measurement
Edward Elgar Publishing has published a multi-author book "Handbook of Innovation Indicators and Measurement". Two chapters are prepared by the HSE ISSEK specialists.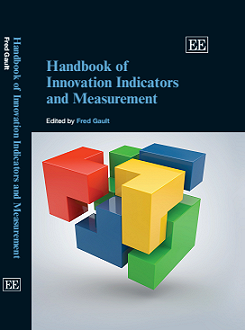 Handbook of Innovation Indicators and Measurement/ Ed. by Fred Gault. Edward Elgar Publishing, 2013. ISBN 978 0 85793 364 5
Founded in 1986 Edward Elgar Publishing is a leading international publisher that specializes in the production of scholarly monographs, reference books and textbooks in economics, law, finance, business, management and public policy. It publishes more than 300 new books per year.
In June 2013, the Edward Elgar Handbook of Innovation Indicators and Measurement will be published. It is edited by Fred Gault (UNU-MERIT) and has chapters written by present and former members of NESTI, and of the Secretariat, as well as by authors from related to the community who develop topics that are relevant to the longer term agenda of NESTI. According to the Elgar description "It deals with the development and the use of innovation indicators to support decision-making and is written by authors who are practitioners, who know what works and what does not, in order to improve the development of indicators to satisfy future policy needs." The Handbook is expected to contribute to discussions leading to the next revision of the Oslo Manual.
Two chapters are written by the HSE ISSEK specialists.
The authors of the first of these are Leonid Gokhberg, Konstantin Fursov, Ian Miles, and Giulio Perani (the National Institute of Statistics, Italy). Their chapter focuses on the measurement of emerging technologies that have the potential to transform wide swathes of social and economic activity. The relevance of the topic is explained by the fact that the existing mechanisms of statistical accounting for a number of reasons fail to measure technologies that are at an early stage of development and still do not have specific applications. This results in a reduced ability to manage technology progress. Analyzing the lessons learned from statistical work around ICT and biotechnology, the authors propose a "three-dimensional" approach to the classification of technologies that covers all stages of the R&D cycle — from an idea to market launch of an end-user product or service. The basic components in measuring this area are the scientific base or origin of a given technology, its applications and the socio-economic impact. The authors demonstrate the scope for using technology Foresight to orient statistical work, and suggest that a combination of improved statistical monitoring of ongoing developments, and Foresight analysis of anticipated technology and technology applications, represents a powerful approach to achieving early footholds by way of indicators of emerging technologies in concrete circumstances. The chapter outlines the main requirements for such an approach to be effectively implemented and its results utilized; it concludes with proposals for future methodological and conceptual development.
Another chapter (authors — Dirk Meissner and Alexander Sokolov) analyzes interrelations between the two tools both aimed at informing and improving policy making — science, technology and innovation (STI) indicators and Foresight. Indicators are extensively used in Foresight to provide data on STI trends. In turn, Foresight exercises contribute to highlighting new areas of concern for STI policy that can and should be addressed by statistical measurement and emerging research areas with a great innovation potential that needs more detailed statistical analysis. The authors consider three major dimensions of interrelations between Foresight and STI indicators: use of indicators in the course of Foresight studies; building particular STI indicators to monitor and measure Foresight activities; and the contribution of Foresight to complementing existing indicators and developing new ones.
Prepared by