'If you want to collaborate with a foreign country, you must learn its history and culture first'
On September 24, 2015, a delegation of the Ministry of Science and Technology of Taiwan (MOST) visited HSE ISSEK. During the visit, Dr. Yi-Bing Lin, Taiwan's Deputy Minister of Science and Technology, a world class IT expert, gave an interview to the HSE news portal, in which he shared his view of the future of IT, talked about the potential of partnership between Russia and Taiwan in different areas of science, cited some theses of Karl Marx's theory and showed pencil drawings of Russian historical figures that he had made himself.
— You work at the cutting edge of IT research. Could you please tell us what we should expect in the near 'digital' future?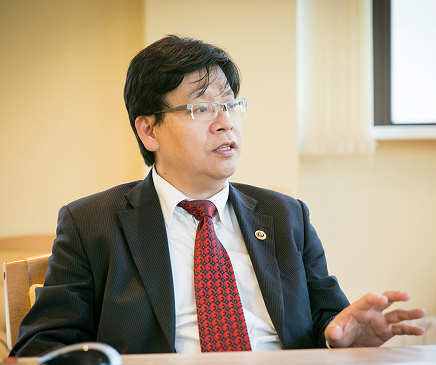 — My primary area of research is telecommunications and, more specifically, mobile phones. I'm a pioneer in this area. As for its future, we now witness fast growth of the so-called 'Internet of Things', or IoT. A huge variety of devices (mobile and other) have a lot of tiny sensors, which collect raw data. When you send these data back to the server, there is a lot of information to analyse. How can we use the data collected by IoT devices wisely? I believe that whoever masters the skill of big data analysis, will be the winner. Big data is becoming something essential, and this won't change.
A serious problem is that some countries, for example, in Africa, don't master this skill. If you don't master the big data, you'll be on the poor side of the curve. Countries that are doing so, however, learn to analyse big data and, as a result, are able to do business anywhere and beat their competitors. 
Take Marx's theory about capitalism. The rich people become richer, and the poor people become poorer. You see that this is exactly what is happening in the world and, I believe, in Russia as well. By the end of the 20th century, Marx's theory was no longer popular, but today, people think about his theory again in order to find new ways to promote justice. How can we solve the problem? How do you create a fortune? You go to the stock market, and you make predictions. If you're not smart enough, you lose a lot of money. Rich people always have better tools than you. The only thing you can do is to train those poor people to become rich. They should use their knowledge, and to learn how to use big data tools. 
— What do you think about futures studies? Are foresight studies given high priority in Taiwan?
— You have to do foresight. Otherwise, you'll be in very serious danger. Foresight studies should underpin government policy, in order to allow for smart allocation of resources. If you don't do it right, you're in a big trouble. That's why these studies are very important. Foresight can help prevent certain problems, as it gives you an initial solution. However, when you try to implement this solution, you have to adjust it, because the environment is changing dramatically.
Within the Ministry of Science and Technology of Taiwan, there is Foresight Division, which is responsible for science and technology policy. It has a large pool of experts. One such group consists of professors. We can use their ideas, which are typically not critical but innovative. On the other hand, we have experts from the industry, who help us adapt academics' ideas to the challenges of the real world. In addition, we also have Strategic Review Board (SRB). SRB consists of famous experts in different technology areas. They review the plans proposed by Foresight Division and make further adjustments. Once SRB has agreed on a policy, the Cabinet orders the Ministries to get involved and to contribute to policy implementation.
— You are a scientist and a public officer, all at the same time. Are there any benefits from combining these two roles? How does your scientific background help you in your political work? And does your public officer position influence your research?
— I work for the government five days a week. On Saturdays and Sundays, I work with students. I don't consider teaching as a job. It's just something I love to do. I also like my governmental duties as well; it's not just a job for me. I joined the government because I think this is something I should do. When you enjoy what you're doing, you feel that it is worth it. But you don't sleep that much. 
As for the benefits, scientific training gives you a logical view. When we study for PhD, the main purpose is not to learn a technology. The most important thing is to learn how to think logically. Once you do it, you can do all kinds of research. And thanks to this training, when I take a look at different kinds of research I'm going to sponsor, I know exactly how to do it in order to get the best result. 
And, of course, it's a mutual process. When I try to come up with a policy for an area of research, I get feedback and I need to adjust my decision. And through this process, I learn. A good thing about being a government officer, a sponsor for all kinds of research projects is that you see different aspects from different research areas. And I learn that there's a different way to do research. This feedback helps me a lot. And I think: can I apply that philosophy to my own research? In most cases, the answer is 'yes'. This way you become more and more flexible. 
— Taiwan and Russia cooperate in a variety of S&T areas, both in basic and applied research. How fruitful is this partnership, in your view?
— For the past ten years, we've been collaborating successfully with the Russian Foundation for Basic Research, Russian Foundation for Humanities, as well as the Siberian and Far Eastern Branches of Russian Academy of Sciences. This year, we've moved forward with the Russian Science Foundation. We are making new investments because the previous cooperation experience has been positive. One area for collaboration between Russian and Taiwanese researchers is medical devices. This is an example of how we can transform professors' research to industrial use. We do it a lot within Taiwan. But there is very good innovation research in Russia. We've already seen very fruitful results from our cooperation. There are a lot of good papers. And we are trying to investigate the papers and see whether we can transfer these studies to industrial use. Sometimes, ideas come from Russian scientists, and Taiwanese professors do the implementation. Sometimes, it's the reverse.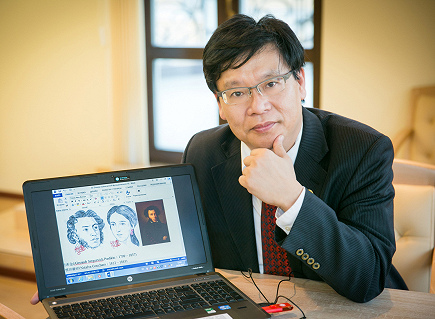 Dr. Yi-Bing Lin showing his drawings of Russian historical figures
— How do you see the collaboration between our countries in five or ten years?
— As I said, everything has to be adjusted. For the past ten years, we had a very solid mutual trust to do research and to collaborate. This is the most important thing: if you don't have mutual trust, you can't collaborate. Right now, with the Russian Science Foundation, we have a three-year programme. This morning, I talked to RSF director, Alexander Khlunov. I told him that if after three years of cooperation, both sides decide to invest more resources, it will mean that we have been successful.
We think about Taiwan-Russia cooperation from a strategic perspective. It's important for us to collaborate with your country. If you really want to collaborate with a foreign country effectively and to come up with a good programme of partnership, you must learn its history and culture first. As a person in charge of Taiwan's international collaboration policy, I put a lot of effort to learn about Russian history and culture in order to strengthen our partnership. 
Interview by Karina Nazaretyan
Photo: Mikhail Dmitriev


Within their visit to Russia, MOST signed an agreement with the Russian Science Foundation (RSF) for jointly supporting bilateral research projects. Therefore, the MOST delegation wants to look for outstanding Russian academic units for Taiwanese researchers to collaborate with. HSE, being one of the best Russian universities in the sphere of economics, statistics, foresight and science policies, is certainly on top of MOST's visit list. With the goal to identify perspective areas of cooperation, researchers of HSE and MOST delegates shared their unique fields of expertise and discussed key trends and instruments of Taiwan's and Russia's state policy on international cooperation in science, technology, and industrial innovation.