Dr. Dirk Meissner: "Think of your working paper as a product you need to sell"
Interview with Dr. Dirk Meissner, a Research Professor and a Deputy Head of the Laboratory for Science and Technology Studies, HSE ISSEK, to HSE Look (an international supplement to the HSE bulletin "Okna Rosta").
Interview with Dr. Dirk Meissner, a Research Professor and a Deputy Head of the Laboratory for Science and Technology Studies, HSE ISSEK, to HSE Look (an international supplement to the HSE bulletin "Okna Rosta").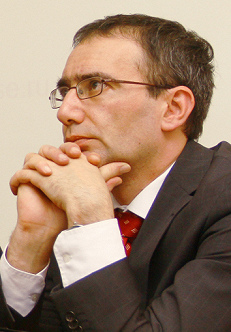 Dirk Meissner
Dirk Meissner was born in Dresden, Germany. After graduating from the University of Wolverhampton in Great Britain and writing his thesis in Osaka Sangyo University in Japan Dirk completed doctoral studies in Germany at Dresden University of Technology, 2001. Dr. Meissner's gained a lot of experience in innovation, intellectual property and risk management as well as innovation and technology policy consulting and currently works at the Institute for Statistical Studies and Economics of Knowledge at HSE and is the Russian delegate to the OECD Working Party on Technology and Innovation Policy. Dirk's interests beyond work are …
I know you are involved in many projects at HSE. What are your main duties here?
— My main duty is research and heading the international Master's programme "Governance of Science, Technology and Innovation" that will be launched in September this year. Another responsibility of mine is development of the junior scholars. We started some courses, for example Academic Writing. We prepared our Handbook for academic writing which gives some tips on how a paper should be structured your paper, how you search literature and things like that. We also give some advice for being a successful author, like writing articles together. It's our basic principle here — somebody gets one topic and then we start thinking it together, divide it and assign who is doing what. Together with two colleagues I also edit our working papers series on Science, Technology and Innovation
What are the aspects of research covered in this series?
— It actually covers all aspects of science, technology and innovation policy and management tools. Now we have two basic focus areas — one is about the framework and environment and another one is about practical implementation, conversion of your creative ideas into some physical action. So the question here is: how do you develop an idea towards a product or an application? This is one side of the product management and another side is a multi-policy direction — how to design the creative conditions, what the government does, and what regional governments do and so on. So these are the two major streams and here we are actually quite well-established and engaged in the international community. So we have some good idea about what concepts are emerging and what are less emerging.
I read that this series is very successful in terms of downloads. Why do you think this is so?
— I'm not sure, we should ask people who download our papers. But I am still a little bit cautious: downloads is one thing, we need to see how the citation develops. I am quite confident that it also will develop, but it takes time. So after one year of existence we cannot say anything good or bad, we have to wait another three or four years until our work is "digested" and incorporated in other works. For a project which has just started it usually takes between one and five years until you can start counting citations.
In our series we pay a lot of attention to abstracts and titles of the papers. We want that titles give a message. We don't want to have technocratic titles. This is the lesson we learned clearly from our colleagues with Anglo-Saxon background. If you look at publications by American or British universities you will not find technocratic headlines. They always look for a very dedicated title which says something. This is also a recipe for our authors. Don't consider your working paper as a paper, think of it as a product! You need a title which sells your product. Market it by having some of the key-words but don't have a long title. Be aware that it will be included in databases and there you will have at least one hundred — one thousand matches. Reflect your own behavior — how do you react when you see one thousand matches and you have to choose ten of that? This said I always assume that the quality of work is high with no doubt.
What are the specifics of being an editor? What is your editorial experience?
— I have edited some books before but editing working papers is different. I have some good experience and some bad experience — when you have submissions for this series and you have to say "No, it doesn't work". The failure rate for the first submission round is 70–80%. So usually we have only a small amount of papers we are considering at the stage for immediate publishing. Everybody should be aware that all of the papers are publicly available in the databases. So if you have a poor paper, you build a reputation. When it is always available online you will have such a negative reputation you will never recover from. We ask authors the questions to just get them to the point when they recognise that a paper needs to be improved for their own purpose and reputation. Our authors understand, that it's not about their personal reputation only, they make a contribution to the overall reputation and image-building of the series and consequently of the institution, HSE.
As editors we have some regulation here — 24 hours after submission we will give our first impression and we don't let the judgment "go to bed". If something is to be critisised, we ask the author why that is. If the author has an answer — it's fine. It's author's intellectual work, not ours. And we don't play the role of a Godfather saying "Don't do that!" We simply try to do it in a constructive way. I think that is probably among of the reasons why we have so many papers in our series.
Can you say that the quality of a paper depends on the quality of the language?
— Yes, that is the argument. This is also what we see quite many times: when the language is not fine, papers are rejected. This is so in our case as well. When we find a paper where English is poor we do the first revision correcting major mistakes and give it for further editing since we are also non-native English speakers.
Why focusing on publishing working papers when one could publish in a peer-reviewed journal?
— We limit the working papers to certain extent and we try to convert them into full-fledged articles. It is not "copy and paste" one to one, but a large part of a working paper can be developed into article. Of course, there must be something new and in the article. We also consider a working paper being some kind of motivation. Writing an article takes a long time and quite often you are frustrated and you think "I just want it to be done." At the moment you submit a paper you feel relaxed. This is not burning energy or wasting time, this is your additional inspiration. You see your work online! It's a first step on the way — structuring ideas and developing them further.
You are very productive as an author. How do you find time for everything? What are your priorities?
— Somehow it works. The major driver behind this is enthusiasm for the topic. The second thing is, you will barely find an institution in Western Europe and America that gives you so much freedom. Here you have the freedom to initiate things and to implement them, be constructively creative. This freedom creates this kind of energy and the momentum that makes you much more comfortable, you don't experience any kind of negative pressure. You have the same indicators to meet as they would have in America or Europe, but you don't consider it as a pressure you consider it like "Ok, we are doing something, we are moving somewhere. And we will see how it develops". In the established world of old-fashioned, old-styled Universities there are established routines, where you cannot change anything. Here we simply like talking to each other and we don't care about any artificial borders — we are here as individuals in a larger group and it works well.
How does it feel living in Russia and in Moscow?
— I didn't have any problems. It's a good thing for foreigners who are coming here not to have any prejudice or simply except the rules and don't be so wise to tell people what they need to do. Don't do it. Simply adjust and except the rules. If you are unhappy with a rule — you can be unhappy, but don't have the ambition to change it.
Take Russian style of driving — at first I was shocked by the way the Russians drive on the MKAD. I thought there must be a lot of accidents. But the logic is quite simple — there won't be any accidents, because everybody is driving like this. So if everybody is like this, I have to work with this chaos. If I would drive a car in a German style, I would be a stranger, because their rules are different. So I didn't see more accidents on the MKAD that in Berlin. It's just a subjective impression. I don't have a car in Moscow and don't need it.
We definitely enjoy living in Moscow. I like practical things about Moscow. If I find something is missing in my fridge I just go next door to "Pyatorochka". Living in Germany if I find my fridge is empty in the evening or on Sunday, I have a problem. And taking Moscow metro — this is the metro that is working and operating. There is this feeling that you get in Moscow — if you need something, you get it.