Meeting future colleagues
On 8 April the Institute for Statistical Studies and Economics of Knowledge held Open Doors day for the Master's programme Governance of Science, Technology and Innovation launching in the new academic year. The prospective students — quite interested judging by their questions — met the programme administrators, their future teachers, and potential employers: the presentation was attended by prominent members of the business community and government agencies.
On 8 April the Institute for Statistical Studies and Economics of Knowledge held Open Doors day for the Master's programme Governance of Science, Technology and Innovation launching in the new academic year. The prospective students — quite interested judging by their questions — met the programme administrators, their future teachers, and potential employers: the presentation was attended by prominent members of the business community and government agencies.
Science in modern politics
"The agenda we're proposing for your future professional activities is very relevant", noted first vice-rector, director of HSE ISSEK Leonid Gokhberg, and outlined possible application areas for the skills the undergraduates would acquire during their studies, citing a number of examples describing activities of the host institute.
Technological modernisation of socio-economic development, both in Russia and in the rest of the world, is a cutting-edge area of business policy and practices, stressed first vice-rector. Development and application of tools for innovation-based economy requires thorough discussions involving representatives of federal and regional authorities, large companies, and international organisations. The recent XV April International Academic Conference on Economic and Social Development at HSE has shown that key top-level stakeholders are ready for such a dialogue. One of the conference events was the round table where technological modernisation and development of incentives to promote innovation activities were discussed by the NRU HSE executives and leading ISSEK experts, with participation of the Russian prime minister Dmitry Medvedev. And a few weeks earlier, in January 2014, the prime minister approved Russian S&T Foresight 2030 commissioned by the RF Ministry of Education and Science and coordinated by the Higher School of Economics.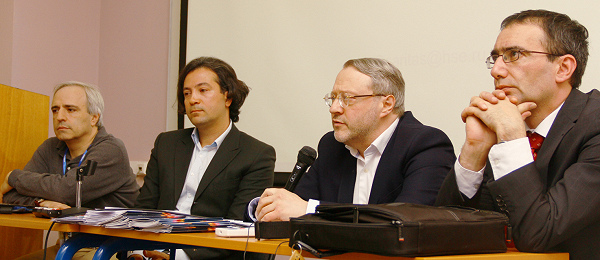 Jonathan Linton, Ozcan Saritas, Leonid Gokhberg, Dirk Meissner
An unusual profession
Due to its status as the RF government expert and analytical support base, the HSE and its largest research arm — the Institute for Statistical Studies and Economics of Knowledge — regularly cooperate with leading government ministries and other agencies, regional administrations, development institutes and large companies. This defines several important aspects of the ISSEK's Master's programme "Governance of Science, Technology and Innovation".
Dirk Meissner, deputy head of the ISSEK's Laboratory for Science and Technology Studies and head of the programme, spoke about its structure, principles and curriculum.
1. Applied research-oriented studies. A major element of the programme will be research seminars, combined with case studies analysing real Russian and international companies practices. About 40% of the teachers will be external practitioners, recognised and highly experienced business and government executives. The ISSEK maintains regular contacts with such organisations as Russian Venture Company (RVC), Gazprom, Rosneft, Aeroflot, RUSNANO, etc.
2. Evidence-based management. In knowledge-based economy it's important to be able to make decisions grounded on analysis of big data, and have skills needed for applying  cutting-edge tools to processing information.
3. Multidisciplinary approach. The programme is open to bachelors and graduates of specialised training programmes in a wide range of fields comprising management, public and municipal administration, economics, global economy and international relations, sociology, political science, law, natural sciences and engineering. Knowledge the students will acquire will be universal, to a large extent at the junction of the above fields.
4. Combining two educational trajectories: science, technology and innovation management and policy is a feature making the ISSEK MSc programme different from other Russian and international educational projects in similar areas. Jonathan Linton, Professor of the University of Ottawa, head of the NRU HSE Laboratory for Science and Technology Studies, shared with the audience the problems he personally experienced when he decided to acquire management qualifications on the basis of an engineering background. According to him, management of research-intensive spheres and policy development are totally isolated from each other in North America.
Some people from the audience seemed to be sceptical about the prospect to become "universally skilled professionals". "Don't we already have too many general managers and economists?", one of the attendees wondered. Leonid Gokhberg agreed: even too many. But how many of those economists, managers and lawyers are really good? —first vice-rector asked.
"Staff-hungry"
Invited top managers responsible for innovation at government agencies, companies, and development institutes, admitted that they saw enormous demand for people with such broad but still very rare skills.
According to Maxim Nedzvetsky, head of the S&T section of the Prospective Development department at Gazprom, Inc., the ability to "create conditions for innovations to mature" is a basic skill for S&T managers. And those willing only to master a "narrow specialisation area" would hardly be able to acquire such skills — which require a wider horizon.
The programme graduates will have a potential for self-realisation in public administration, noted Nikolai Toivonen, director of the RF Ministry of Education and Science's International Department. Having offered a modern interpretation of Gogol's famous eternal Russian twofold problem (instead of "fools and roads" now it should be read as "management and infrastructure"), the ministry representative named the key objectives the mega-customer (the government which declared its intention to move on to knowledge-based economy) sets for innovation managers: 1) create 25 million high-tech jobs by 2020; 2) technology transfer and integration into the global value added chain; and 3) outsourcing engineering services.

Maxim Nedzvetsky, Richard Burger, Leonid Gokhberg, Igor Agamirzian, Nikolai Toivonen
"Technology is the easiest thing here", encouraged the young audience Igor Agamirzian, general director and chairman of the board of Russian Venture Company (RVC). According to the expert with 25-year high-tech experience, the main problems which those trying to "create conditions to foster innovation activities" face are of "non-technology nature" — namely economic, social, organisational, and business-related aspects of technological development. Mr. Agamirzian stressed the increasing effect of technology on the way and the standard of life, on the social and political organisation of the modern world. He gave striking examples of people's way of life radically changing after the introduction of various technologies. For example, the centuries-old geographical principle of community building — from tribes to national states — is now fading away after various revolutionary innovations, including transport and ICT, have launched the processes which are currently shaping transnational, supra-geographical communities.
Igor Agamirzian noted another, hard-to-manage novel phenomenon — cooperative competition. High-tech products are impossible to create on one's own, so economic actors, on the one hand, are divided into small, medium and large companies, while, on the other hand, they are striving to merge into a global innovation chain. Which S&T policies being applied now would bring a desired effect in the future? Are these steps aimed at encouraging (or forcing) companies to engage into innovation activities (there are Russian cases of that kind), or fighting against the restrictions (according to certain Singaporean best practices)? One way or another, and keeping in mind the quickly changing framework, one has to "hit the moving target" aiming at "the day after tomorrow", cited one of his favourite examples the RVC leader: i.e. these days any level of management must be based on long-term foresight.
The totally academic discussion about the government's role in innovation creation and identification of S&T development priorities was supported by Richard Burger, research and innovation counsellor at the Delegation of the European Union in Russia. He admitted to be very inspired and impressed by the changes in the life of the society brought about by technological breakthroughs. He also noted that since the most important resource in the EU was people, smart management was obviously crucial to ensure the continents competitiveness.
"It must be a conscious choice"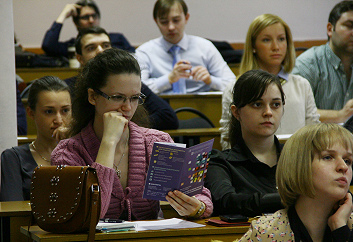 Teachers of some Master's programme courses, including the leading members of ISSEK — Foresight Centre director and deputy director of ISSEK Alexander Sokolov, and his deputies Oleg Karasev (who is in charge of corporate foresight projects) and Alexander Chulok, head of S&T Foresight department, were introduced to the audience.
The students enrolled in the Master's programme will have a chance to take part in the work of the NRU HSE international research laboratories established at the ISSEK. Laboratory for Economics of Innovation headed by Ian Miles, the classic of British foresight studies, professor of the University of Manchester, was represented by Thomas Thurner, leading research fellow. On behalf of the Laboratory for Science and Technology Studies spoke Jonathan Linton, its head, professor of the University of Ottawa and Ozcan Saritas, editor-in-chief of Technovation and leading research fellow, professor of the Institute of Innovation Research at the University of Manchester, editor-in-chief of Foresight. The laboratory's senior researcher Anna Sokolova answered many questions being asked during the meeting. Anna Rodionova, manager of the Master's programme whom the students have also met at the presentation, will be able to answer other questions later on.
So what were  the prospective students primarily interested in?
Would it be possible to combine studies with work? The classes will mostly take place in the evening and occasionally on Saturdays, so the answer is yes. However, don't expect "to have fun", noted Leonid Gokhberg: the programme requirements are quite tough.
Here's an example: the programme will be taught exclusively in English. Future students must assess their fluency in the main language of international communication critically. An international certificate confirming this level is not required, but preferable. In any case, during the admission interview the entrants will have to spend about half an hour speaking with the programme teachers on relevant topics in a free format (yes, it may be done by Skype). To make a good impression it would be worth "catching up on classical reading, and reading something on current innovation policies", advised first vice-rector. Anna Sokolova stressed the importance of the interview in the portfolio competition: it can bring 25 of the total 100 points.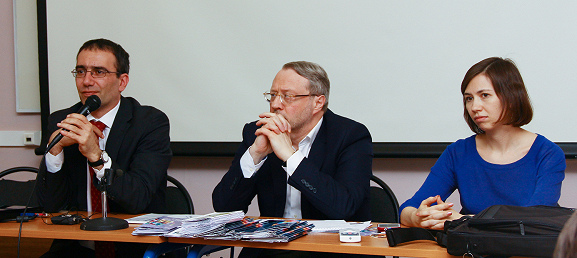 Dirk Meissner, Leonid Gokhberg, Anna Sokolova
How to prepare for the portfolio competition? In addition to diploma(s), all certificates and other documents confirming professional experience, victories at contests, participation in conferences, publications, presentations, etc. would be very useful. "And if it was a physics presentation?" — "Go ahead and bring it, we'll try to make some sense of physics too", assured the programme organisers. In a word, all meaningful achievements will count.
There were numerous so-called "technical" questions:
Where will the classes take place? Not decided yet, but probably at the HSE's new building in Myasnitskaya Street. "What about parking?", somebody from the back rows asked. Yes, the new building does have parking places.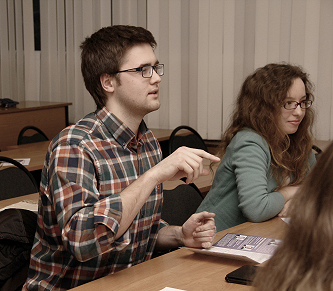 How tough is the competition going to be? The recent NRU HSE Olympiad gives an idea: 48 people saw it as a chance to enrol in this programme.
When will the Olympiad results be announced? At the end of April. It turned out that this question was relevant to more than a half of the Open Doors day's visitors. "I can see that serious people came here", praised the audience Leonid Gokhberg. "You took part in the Olympiad, you came for the presentation, and you are asking questions. These all are good signs".
Will the programme allow to get a double diploma? How does it correlate with the HSE's roadmap in the framework of the "5/100" programme (increasing universities global competitiveness)? Negotiations about double diplomas are currently under way with several international partner universities, noted Dirk Meissner, the programme head. Students will be able to participate in academic mobility programmes, and the credits they get at partner universities will be counted at HSE.
The Higher School of Economics is considered an elite and one of the most dynamic Russian universities, reminded Leonid Gokhberg. Entrants who chose the new Master's programme will be able to benefit from privileges granted to all HSE students, such as the access to the biggest electronic library in Russia (the university is subscribed to all international journals and electronic publications by all leading publishers in the world), free medical services, social stipends, and comprehensive support services.
"Governance of Science, Technology and Innovation is a very complex area", admitted Maxim Nedzvetsky of Gazprom, Inc. "This is a programme for those able and willing to create something new, to overcome barriers. It must be a conscious choice. The harder the challenge, the sweeter the victory. So I wish you victory!", concluded Maxim Nedzvetsky.
By Anastasia Popova and Elena Gutaruk